Company
Applied Signal Processing's

Mass Storage Daughter Card for Texas Instruments TMS320C645x™, TMS320DM64x™, TMS320C64x™, TMS320C67x™ and TMS320C55x™ DSP Starter Kits (DSKs) and Evaluation Modules (EVMs) quickly adds Mass Media storage and retrieval capability to any DSP project. The daughter card can support a Secure Digital, Compact Flash or Hard Drive. With the Mass Storage Daughter Card and Applied Signal Processing's FAT32 compatible file system, developers can quickly expand the functionality of their DSP project to include file I/O capabilities. This Daughter Card is the ideal reference design for your applications that need features such as audio streaming, large amounts of data acquisition, or a flexible system reconfiguration option. Using the daughter card in conjunction with a DSK or EVM allows your application software development to move forward while your custom hardware is fabricated, shortening your product development cycle.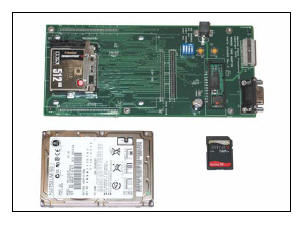 Features:
Includes optional general purpose RS-232 serial port.
2 pushbutton switches available for user control.
Built in DC-DC converters allows entire DSK design to run off of 12V battery
Supports data rates up to 4Mbytes/sec for CF, 9Mbytes/sec for HDD, and 1Mbyte/sec for SD. (Suitable for 24Bit, 96KHz Stereo).
Stackable design allows use with other daughter cards.
Includes reference schematic for easy integration into any custom design.
Supported Platforms: C645X, C64x, C67x, C55x DSKs; DM642 EVM.
FAT32 compatible file system, device drivers and data streaming applications are also available for license.

Specifications:
2.5" HDD. 1 – (44pin Female 2x22 2mm pitch)

Compact Flash – 1 (50 pin male Ejector on left side)

SD/MMC – 1 (9 pin)

Power in – 1 (2.5 mm DC power Jack, Center hot)

Expansion Port – 1 (DB-9 Female, optional Software UART)
Power Requirements: 5VDC from DSK or 9-30VDC, .5A

Dimensions: 3.39x7.52"

Indicators: LED – Green – Power; LED – Red – Drive Active.

Environment: -40 to 85 Co; 0-95% RH (non condensing).